At Greg Sterling Orthopaedics, we are dedicated to providing comprehensive care for our clients, right from the minute of diagnosis through to the post-operative care.
No injury or harm caused to an individual is the same, and so our medical professionals consider all therapies available to care for our patients appropriately.
One of the treatments we adopt for patients is RPW Shockwave therapy, however, when this is proposed, many people are left slightly confused as what it is.
To help ease any uncertainty about the treatment, its purposes, and the effects it may have on you, we have developed a simple guide to understanding it.
Be aware: this should not and does not replace the expert knowledge of your own practitioner. Always seek their advice first.
A brief overview of RPW Shockwave.
As explained by NCBI, the therapy has been in operation for the past 15 years. It has mostly been applied in the circumstances as an alternative treatment for musculoskeletal disorders, such as plantar fasciitis or Achilles tendinopathy.
Its original purpose was to treat kidney stones, mostly throughout Europe and North America, however, has recently been applied across many conditions. According to Stadium Clinic, it has a 75% success level.
There are generally two types of shockwave therapy used; focused shockwave and radial. The fundamental differences between the two are the amount of pressure applied to the area and for the period of time.
Focused shockwave applies an extreme amount to a particular region but for a speck of time. In comparison, radial applies a reasonable amount of pressure in a bell curve-like model. 
How does it work?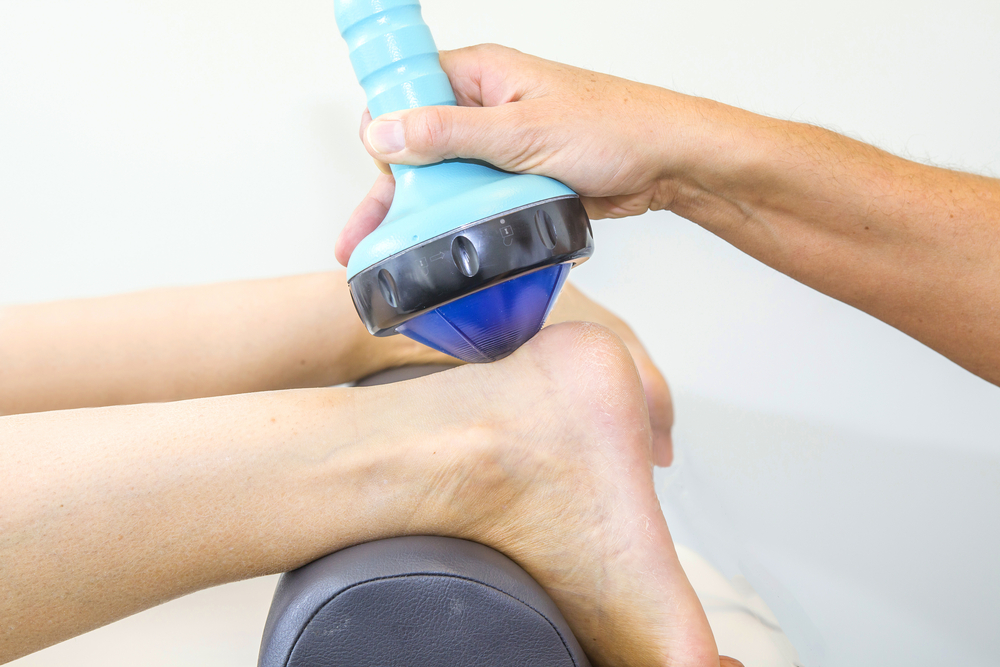 As per the pamphlet, we provide our patients; radial shockwaves are applied using a freely moving applicator that ensures it covers the part of the body in pain.
Chattanooga explains how the pulses are created by compressed air, which is then converted into acoustic energy.
"The acoustic pulses then spread into the underlying tissue, treating a larger area than the focused shockwave shown…," it says.
Further, "the pathological association between pain and muscle tone and vascular tone is broken as a result of shock wave therapy and the strong stimuli it produces, thus enabling natural movement patterns to be remembered and recalled."
This area then becomes perfect for healing and repair, including increasing circulation of blood and reduction of chronic inflammation.
Benefits of RPW Shockwave.
Particularly for injuries that are difficult to treat, this therapy provides a non-invasive option with long-term results, by "resetting" the healing pattern.
There are a handful of benefits that RPW is theorised to have, according to Chattanooga, including:
Pain reduction: the pulses intercept the ordinary neurones that would transmit signals of pain
Increased metabolism: right down to the cellular level the waves can reach, causing them to release pain.
Revascularisation: the repeated shockwaves promotes tissue healing and regeneration by increasing the blood flow
Side effects to the therapy.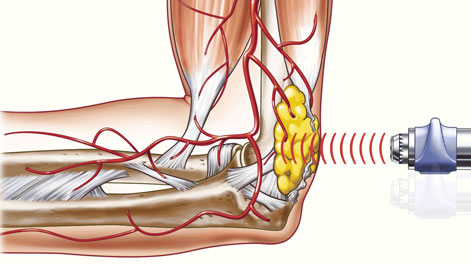 Even though RPW is a long-term healing solution, it can pose minor side effects to some patients. Usually, they appear within two days of being treated and will disappear after at least three days. They shouldn't last longer than five days in normal circumstances.
Usually, patients report having an intense feeling of soreness the night of the treatment, which can be controlled with some pain relief medication or ice.
In more severe effects, minor bruising may appear, and anyone who receives the treatment should avoid doing any activities that may aggravate the area.
When not to have it.
Your practitioner will usually be able to diagnose if there are any factors that may exclude you from treatment. They include:
Pregnancy
Haemophilia or other coagulation disorders
Acute inflammation
Disturbed sensory and nervous function, e.g. diabetes
Corticosteroid injections
Malignancy
Prostheses and implants
Of course, all of this advice will be provided in more detail when you visit one of our practitioners at Greg Sterling Orthopaedics, however, it is an excellent place to start.
If you want to find out more about RPW Shockwave or the other services we offer at the clinic, please get in touch with us today!